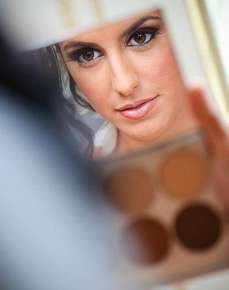 A makeup trial is a makeup session you have with a makeup artist to determine the look you'd like for your special day—it, in a sense, gives you an idea of how the artist would apply your makeup on the day of your event.
While makeup trials are usually associated with weddings and are typically part of a makeup package, they don't have to be. You can seek to have a trial before prom, photo shoots, birthdays or any other special event in which they want to be glamorized.
These trials can occur in your home, the artist's home or at a salon. Following a makeup trial, and even after booking the artist for your special day, you may be able to purchase the products used to apply your makeup so that you can keep your look over the entirety of the event.
Tips for Your Makeup Trial
Prior to your makeup trial, there are preparations that can be made to ensure you have the best outcome:
Know your skin and skin type: Either over the phone, in an email or in person, tell your makeup artist what type of skin you have (e.g., oily, dry, acne-prone). You'll also want to dispel any other important details about your skin, such as hyperpigmentation or hypopigmentation. All of this information will be used by the makeup artist to determine which products to use.
Know the style of makeup you want: Here, you will want to do some research and either print the examples or load them onto your phone or device and show your artist prior to or on the day of the trial. Note: A good makeup artist will tell you whether it is achievable and if not, will make recommendations based on their experience and expertise—not all looks will be pleasing on everyone, especially since we have different features, skin complexions and perhaps skin problems.
Know what you don't like: If you don't like red lipstick, for example, make this known. If you don't express your dislikes, your makeup artist will not know. And should she attempt a "don't," you may be displeased with your service without knowing that you haven't really given her a real shot to meet your expectations.
Know what you are wearing: Let's face it: many women like to coordinate. This means that you want your makeup to go well with your outfit. Take a photo of what you will be wearing to your makeup artist or, at the very least, give a detailed description of what it looks like—this includes color, style and fit.
Tips after Your Makeup Trial Has Ended
Just as tips can be helpful before your trial, pointers can be just as useful afterwards. Here are some:
Take lots of pictures: When your trial is over, snap lots of pictures with and without flash, outdoors and indoors, and from every angle to really assess your makeup artist's work and truly determine whether you like the outcome. Then, reassess the photos again in a day or so, for you may have a different perspective about your look then.
Get feedback: For this, you will not want to rely on the word(s) of a stranger. Instead, have a friend, or multiple friends, critique your look. Be sure to pick those who will be completely honest with you.
Get dressed up: If you already have the outfit and jewelry you plan to wear on the day of your special event, try it on to see if it compliments your makeup. You may find that they collide and that a different makeup style or garment is needed.
Go out: You have your makeup done, so you might as well flaunt it, right? While this is true, this tip is much deeper. Going out after a makeup trial will help you understand the makeup's lasting power and, after wearing it for a while, whether you will be comfortable wearing it for the length of your event.
And if you need a little help in designing a look for your special occasion, give us a call to set up a makeup trial. We will be more than happy to work with you to create the perfect look for you.