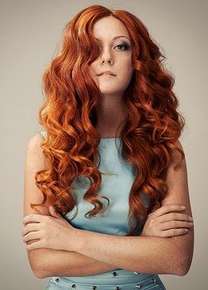 One of the worst feelings is going to bed with beautiful bouncy curls and waking up with flat and unkempt strands. The good news is that there are some simple techniques you can use before you go to sleep which will preserve your curls, and you can do them in just minutes. Here are three to add to your bedtime repertoire to keep those curls looking great.
Preserving Hair Curls with Flexi Rods
Flexi rods help create long and soft curls, and unlike hard rollers that are incredibly uncomfortable to sleep on, flexi rods are easy to put in and won't disturb your sleep. To use flexi rods the right way, start by wrapping a section of your hair around each rod as close to the root as possible down to the tip of your hair. After you're done, just simply bend the flexi rod into a U-shape. In the morning, take them out and adjust your curls by gently tugging your hair. It's your key to sleeping well and waking up with vibrant and bouncy curls that stay strong throughout the day.
The French Braid
The French braid is the go-to technique for beautiful wavy curls in the morning. Two or three French braids work well, and they're great for helping you wake up with beautiful tresses that won't need a curling iron. French braids also protect your hair as they rub against a pillowcase or sheets, which can break hair down and dry it out. Just be sure to spray a bit of hair spray or even sea salt spray in your hair before you go to bed, which will help give your curls more volume and strength the following day.
The Pineapple
The pineapple is incredibly popular, and for good reason! Don't worry, this technique doesn't involve you applying pineapple chunks on your head. Instead, just gather your hair at the top of your head and tie it into a loose ponytail with a soft or cotton hair tie. If you secure your ponytail too tight, you may end up with a crimp mark in your hair the next day. Once you have your hair up, it should look like a pineapple, at least for those with thicker curly hair. To protect your hair even further, wear a satin cap or silk scarf, which will help ensure your curls come out even more voluminous when you wake up.
Whether your curls are natural or not, our stylist are prepared to help make your locks into curly, bouncy perfection. Contact us today to make an appointment with one of stylists.